The massive Russian aid convoy has finally made its way to the Ukrainian border, aiming to bring humanitarian aid to the civilians trapped in the middle of the Ukrainian invasion of the eastern, rebel-held region.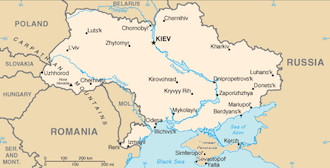 And there it sits, as Russian and Ukrainian foreign ministry officials discuss the terms under which it might be allowed in, and Ukrainian officials suggest that it might not be allowed in at all.
Ukrainian officials insist sending humanitarian aid in would be "an act of open aggression," and they should know something about open aggression, heavily shelling the rebel city of Donetsk.
Even the US, which has been loudly cheering Ukraine's attacks and downplaying civilian deaths for weeks, is finally urging "restraint" by the Ukrainian military as it moves against Donetsk, a massive city. The comments came amid another reiteration of support for their war against the rebels, but were still unprecedented.