The Ukrainian military has angrily spurned a call from eastern Ukrainian rebel leaders for a humanitarian ceasefire, aiming to allow civilians trapped in the sieged city of Donetsk to escape.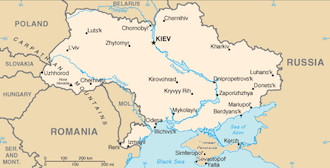 The proposal was pushed overnight by Alexander Zakharchenko, the premier of the secessionist Donetsk People's Republic, saying it was necessary to avert a growing humanitarian crisis in the city, the largest rebel-held city.
Ukrainian military spokesman Andriy Lysenko insisted no offers for a ceasefire would even be considered without a unilateral, unconditional surrender by the rebels.
The Ukrainian military has Donetsk surrounded, and is shelling areas across the city. Large numbers of civilians have already fled, but many more remain, trapped in the ongoing siege.