"We did a whole lot of things that were right, but we tortured some folks."
A shocking statement both for its content and for the casual delivery, President Obama declared this during today's press conference, in what may well be the most direct admission of torture by the US government that he or any other president is liable to offer.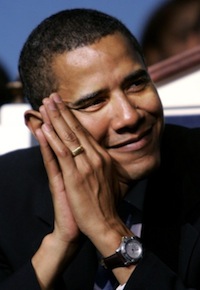 The admission of torture came in the context of the ever-growing scandal surrounding the Senate's report on CIA torture during the Bush years, and evidence that the CIA has been spying on the Senate Intelligence Committee during the compilation of that report.
The CIA has been engaged in a very public campaign to discredit the report, alongside with the clandestine, and very illegal, efforts to undermine the Senate committee in the report's creation.
Despite Obama's admission to the torture by the CIA, his comments at the press conference centered almost exclusively on praising CIA Director John Brennan, who lied to the Senate about the spying and yesterday offered a private apology to the committee.
And even though the sentence itself implies that Obama believes torture is wrong, his comments later appeared to defend the practice, insisting that 9/11 put a lot of pressure on the CIA and "it's important for us not to feel too sanctimonious in retrospect about the tough job that those folks had."