Israel's latest round of angry condemnations of Secretary of State John Kerry is provoking an unusually terse backlash from administration officials, who warn that Israel is risking its relationship with the US with such tantrums.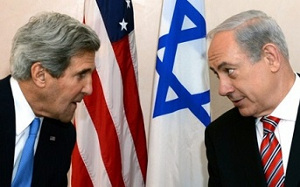 At their daily press briefing, State Department spokeswoman Jen Psaki went into considerable detail about the Israeli "misinformation" campaign against Kerry, saying it wasn't the sort of thing allies are supposed to do to each other.
Far from the so-called "Kerry plan" being a huge series of concessions to Hamas, Psaki insisted the plan was materially unchanged from the Egyptian proposal, which Israel had publicly agreed to just 10 days prior.
Israel objected to the ceasefire plan not giving them permission to keep attacking Gaza tunnels, nor imposing a full "demilitarization" on the Gaza Strip, but neither of those were included in the Egypt plan either.
The Egypt plan died on the vine because after Israel accepted it, Hamas noted no one ever even presented them with it, and they read about it in the media. Yet now it seems Israel has a problem with the plan, because as they continue to escalate the conflict, they want more and more.