Apparently still laying the groundwork for their own planned military intervention, the US government has invented a narrative of massive Russian artillery strikes against Ukrainian military bases along the border.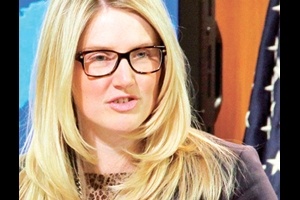 State Department spokeswoman Marie Harf introduced the story to the press at today's briefing, claiming that the US has secret evidence from "human intelligence information" that the attacks are taking place. The Pentagon concurred, saying such attacks have been going on "for several days."
During the past several days, there has not been a single report out of Ukraine of an artillery strike against any of their military bases, anywhere in the country. The last such incident was two weeks ago, when rebels fired a BM-21 grad at a military base.
And this is Ukraine we're talking about, which comes up with its own dubious stories of Russian attacks on a near daily basis. If Russia was carried out concerted shelling against Ukrainian military targets, Ukraine would be harping on about it constantly. They aren't even alleging anything close to that is happening.
The latest invented story appears to have been produced primarily as a replacement for Harf's increasingly debunked allegations surrounding the MH17 shoot-down, a talking point which has gained her no small mocking in the press over the past week, as she directly contradicts the US intelligence community's own releases on the matter.
Harf's latest allegations included the phantom artillery fire and secret evidence of Russia planning to maybe send a bunch more weapons to the rebels. One member of the assembled press, humorously, asked if there was "a YouTube video or something that you can point us to," calling back to Harf's regular use of social media as "proof" for her claims.
Harf declared "I just said I wasn't going to give you the underlying source," and asked if the press preferred she keep things to herself that she can't prove. This led to another exchange, with someone shooting back "Marie, I think that it would be best for all concerned here if when you make an allegation like that, you're able to back it up with something more than just "because I said so." "