A solid week of offensives by ISIS against Kurdish-controlled areas in Aleppo Province have not turned out as they hoped, and the Kurdish border city of Ayn al-Arab remains under the control of the Kurdish YPG militia.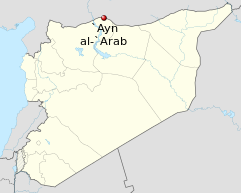 Indeed, while the YPG didn't seem to have much going for it in the area, with Ayn al-Arab and nearby villages cut off from their main holdings in the far northeast, they seem to be getting surprising amounts of support through the crossing.
Turkish Kurdish volunteers have been flocking to Ayn al-Arab, answering the YPG call to arms to defend the city, which has been under de facto Kurdish control since 2012.
The YPG has proven fairly successful at fighting off ISIS, and has managed to keep its territory independent from them so far. Still, as ISIS expands everywhere along its border, expect Kurds in both Iraq and Syria to remain a key target.