ISIS fighters, bolstered by major victories in Iraq and awash in US-made military equipment looted in Mosul, are back on the offensive in northern Syria, looking to add to their territorial possessions along the Turkish border.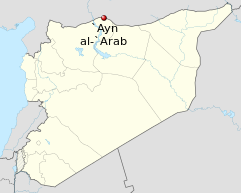 And while there is still some fighting with rival rebel factions, ISIS's preferred target seems to be the Kurdish villages in Aleppo Province, where they've been targeting PYD fighters, killing scores.
Several Kurdish villages have already fallen, and the ultimate target seems to be Ayn al-Arab, a Kurdish town that is also a border crossing into Turkey. Border crossings are always prized by rebel factions as a source of smuggling revenue, and equipment.
The YPG has fought relatively successfully against ISIS in Syria's far northeast, where a border crossing into Iraq is held by Iraqi Kurdistan. The Aleppo villages are cut off from this region, however, and less readily defended, making them an inviting target for ISIS expansion.