Ukrainian President Petro Poroshenko has announced that he is abandoning the eastern ceasefire outright today, and ordering new attacks on the secessionist rebels in the region.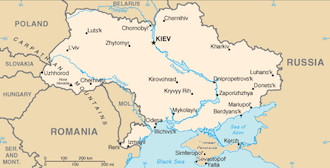 "We will attack and free our lands," vowed Poroshenko, claiming there was no point in continuing the ceasefire because the rebels had shown they weren't going to support his "peace plan."
That plan involved unilateral disarmament and surrender to the Ukrainian military in return for a promised amnesty. The rebels said they didn't believe the amnesty would happen, and didn't trust the Poroshenko government to negotiate after their surrender.
With Ukraine looking to restart its eastern war, NATO announced plans to move more US troops to Eastern Europe in the months to come to "response to Russian aggression in Ukraine." Russia had sought an extension of the ceasefire and had been pushing for negotiations with the rebels.