The first actual combat planes the Iraqi Air Force has managed to get its hands on, the Maliki government today took delivery of 12 "second-hand" Su-25 warplanes from Russia.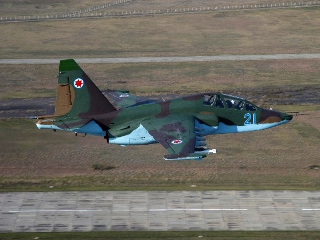 Su-25s represent some of the finest technology the late 1970's Soviet Union had to offer, and while not as powerful as the F-16s Iraq ordered from the US back in 2011, they have the advantage of actually having been delivered.
On the downside, the US is rushing Hellfire Missiles to Iraq, which are totally incompatible with the Su-25s. Making matters worse, ISIS looted large amounts of US-made Stinger missiles from Iraqi forces in Mosul, and those missiles were designed to shoot down Soviet aircraft like the Su-25.
In addition to the planes, Russia also sent a handful a military experts to the nation to provide details about the new, lightly-used hardware. The arrival of Russian experts was seen as a move to one-up the US, though they are not expected to stay long.
Those may not be the only virtually obsolete Soviet warplanes in the Iraqi Air Force going forward, as Iraq is said to be in talks with Iran on returning a number of older warplanes that defected to Iran during the 1991 Gulf War. The planes include Su-24s and MiG-23s.