Russian President Vladimir Putin has publicly renounced a parliamentary authorization for the use of military force against Ukraine, urging the Ukrainian government and rebels to take advantage of the ongoing ceasefire and engage in substantive talks.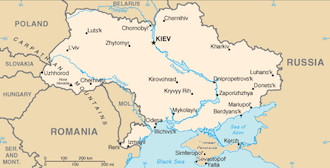 Putin offered tentative backing for the ceasefire itself, saying it was a good start but urging them to extend it beyond the single week both sides have agreed to so far.
Yesterday that ceasefire looked very promising indeed, with both sides meeting for preliminary talks on a settlement on the ongoing eastern conflict. Overnight clashes and a helicopter downed near Slovyansk have the situation in serious doubt again.
The Ukrainian government reported the Mi-8 cargo helicopter was shot down, killing nine people, including people who were installing equipment to monitor the ceasefire.
Which rebel faction fired the missile was unclear, and the government reported those responsible fled to a nearby village. Major factions within the People's Republic of Donetsk appear to still be abiding by the ceasefire, and looking for talks.