Israeli officials, led by Strategic Affairs Minister Yuval Steinitz, have issued warnings to the US that they view the reports of potential US-Iranian cooperation on Iraq with the utmost concern.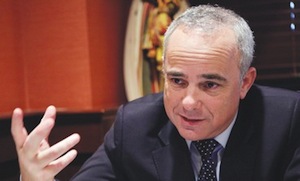 Reports have been growing over the weekend of US openness to cooperating with Iran on the defense of mutual ally Iraq, which is facing major losses from the Islamic State of Iraq and Syria (ISIS) fighters. The nations discussed the issue on the sidelines of the latest P5+1 nuclear talks in Vienna.
Israel has been opposed to the nuclear talks with Iran in the first place, and is extra opposed now that it might lead to a cooperation deal which, as Steinitz said, would "soften" the US position on Iran.
Steinitz claimed to have been assured that a "total separation" of the Iraq war and Iran's civilian nuclear program would be enforced, and that he objected to the prospect of talks with Iran on anything but the nuclear program.