With just hours remaining until the deadline for Ukraine to pay off its $1.95 billion gas debt, EU-brokered talks with Russian officials have broken down, and a shutdown of natural gas supplies seems inevitable before the day is out.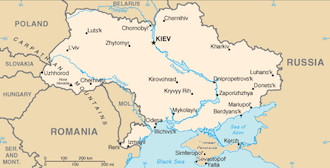 Russian natural gas company Gazprom had informed Ukraine that if the debt was not paid off, they would be moved to prepayment for future natural gas shipments starting at 6:00 AM GMT Monday, and Gazprom CEO Alexei Miller said that since Ukraine had not made any orders or prepayments, they wouldn't get any gas at all.
Ukraine Energy Minister Yury Prodan shrugged off questions about the shutoff, insisting Ukraine was fully prepared to manage without any imports of natural gas from Russia, which provides the majority of the nation's energy.
Ukraine's state-run gas importer Naftogaz seemed less comfortable with that, and confirmed the EU was pushing for a compromise price somewhere between $300 and $385 for the gas. Ukraine has asked for a price of $268 per 1,000 cubic meters, while Russia offered $385. Gazprom has originally sought to charge $485, in line with what they charge the rest of Europe.