The forces of the Islamic State of Iraq and Syria (ISIS) have seized yet another city in northwestern Iraq today, this time overrunning the ethnic Turkomen city of Tal Afar, just west of Mosul.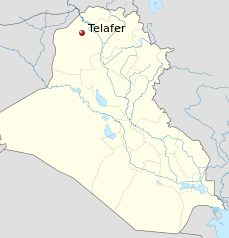 City officials reported "many people were killed" on both sides and that the city's Shi'ite families have fled the area. Despite a fierce defense, ISIS eventually overran the city, one of the last parts of Nineveh Province they didn't control.
Turkey's Deputy Foreign Minister Naci Koru said the loss of the city was taken very seriously by his government, because of the historic ties between the Turkish people and the Iraqi Turkomen.
ISIS has been grabbing cities left and right over the past week in Iraq, and while Tal Afar is far from the largest, it reflects the strategy of the group, formerly known as al-Qaeda in Iraq (AQI), in trying to consolidate broad swathes of territory for what they envision as an eventual Sunni caliphate in former territory of Iraq and Syria.