An air strike tore through a group of Kurdish Peshmerga fighters in the eastern Iraqi town of Jalawla, in Diyala Province, killing seven of them, according to local police.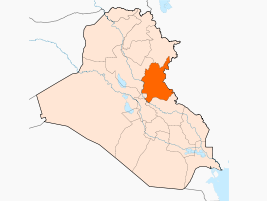 It's the first incident of Iraqi military killing Kurdish troops since the latest round of fighting began, but was it a case of "friendly fire," or the start of an Iraqi effort to unseat the Peshmerga from recently seized territory?
It's not clear, and Kurdish officials seem to be trying to give Iraq the benefit of the doubt, saying al-Qaeda in Iraq (AQI) was in the area and implying that they may have been the intended target. The Peshmerga chief says talks are underway with Iraq to find out what happened.
Yet Kurdish forces have seized several towns, as well as the major city of Kirkuk, after the Iraqi military fled in the face of the AQI offensive. The Kurds say they are "here to stay," and Iraq likely isn't going to take the unilateral expansion of the Kurdistan Regional Government (KRG) kindly.