Militants from an as-yet-unknown Taliban faction have attacked Jinnah International Airport in Karachi this evening, engaging in overnight fighting with airport security that left at least 29 killed and a number of others wounded.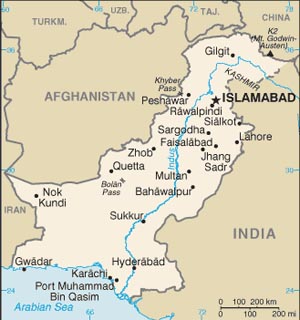 The death toll included ten of the militants, and at least eight members of airport security and military special forces. The Pakistani military declared the siege "over" as of 8 pm EST Sunday evening, but are still in the process of actually securing the area.
The attack started with an attack on the VIP area of the airport, and a cargo plane was set on fire in the initial siege. After five hours of fighting, fires were set in multiple locations and the airport, Pakistan's largest for both domestic and international flights, was in a state of lock-down, with flights being rerouted elsewhere.
Government officials say the attackers started lobbing grenades at planes on the runways, and they believe the effort was primarily to "damage the fleet" and create panic at one of the nation's most secure locations.
A group of Pakistani Taliban have claimed credit for the attack, though at this point it remains unclear exactly which faction, as the major Taliban blocs in the nation have become increasingly splintered in recent months.