At a meeting with Ukraine's new President Petro Poroshenko, President Obama promised him $5 million in new US military aid, along with ongoing support for his invasion of the eastern portion of Ukraine to tackle a secessionist movement there.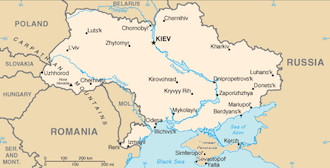 Most of Obama's comments centered on condemning Russia, who he accused of "dark tactics" and "bullying" against Ukraine. Obama claimed secret evidence of "Russian military interference" in Ukraine's east.
"Bigger nations must not be allowed to bully the small," insisted Obama, going on to say that the US will never recognize Russia's annexation of Crimea.
Russian President Vladimir Putin took a shot at Obama's comments, panning the hypocrisy of the US president for accusing Russia of military aggression abroad while having massive amounts of US troops deployed all over the world, thousands of miles from US soil.
President Poroshenko has been suggesting some sort of compromise aimed at ending the secessionist movement in the east, though that seems to be opposed by more hawkish Ukrainian MPs, as well as several Western nations, which have endorsed unconditionally the military operations against the easterners, and seem averse to any result that doesn't end with a bloody military defeat for ethnic Russians along the border region.