A surprising Saturday deal ended nearly five years of detention for Sgt. Bowe Bergdahl, the only US prisoner of war in Afghanistan, in return for the release of five Guantanamo Bay detainees to Qatar.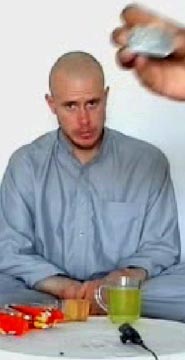 Bergdahl was captured by the Taliban in 2009, and has been held since in various sites along the Afghan-Pakistan border. The deal under which he was released was proposed by the Taliban in 2013, involving the release of the five detainees.
The five detainees, interestingly enough, were going to be released unilaterally by the administration in 2012 as a "confidence-building" measure for peace talks. The releases were delayed when the talks collapsed, but it was the Taliban who first suggested they'd reciprocate with Bergdahl's release in the deal.
The Sunday talk show circuit made it clear that Bergdahl's release also meant his transition from a mostly-forgotten POW, rarely mentioned by officials, into a political football.
The prisoner exchange was immediately condemned by several GOP hawks as "negotiating with terrorists," and the hawks were unanimous today in condemning Bergdahl's release as a "dangerous precedent."
The administration seems just as willing to play politics with the issue, insisting that finally securing Bergdahl's release, after nearly five years in captivity and a year after the Taliban initially offered this swap, as proof of their support for the troops.
In many ways, Sgt. Bergdahl's release was less about his release than about replacing the ouster of VA Secretary Eric Shiniseki with a shiny new topic for the Sunday circuit. Judging from all the officials lining up to make hay of the issue today, it was "mission accomplished."