Tensions in the South China Sea seem to be boiling over, as the Chinese oil company CNOOC moves to establish an offshore oil rig near the Paracels Islands, in waters claimed by both China and Vietnam.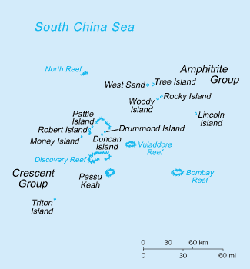 Vietnamese naval police have been deployed to "confront" the ships setting up the rig, and video shows Chinese ships firing water cannons at the Vietnamese ships to keep them at a distance. Vietnam reported six injuries in the incidents.
The Paracels Islands are de facto part of China's Hainan Province, and China and South Vietnam fought a brief naval battle over the islands in 1974. The islands are still claimed by China, Vietnam and Taiwan.
The US State Department was quick to criticize the move as threatening "peace and stability" in the region, and the Obama Administration has made it a stated policy to back everyone else in territorial disputes against China. In practice Vietnam's Navy, made mostly of aging Soviet ships, is simply not in a position to fight China's larger and substantial more modern navy, and there seems to be no real point in Vietnam making another run at the islands.