After claiming their military was "helpless" in the region, Ukrainian troops today attacked the protester-held cities of Slovyansk and Kramatorsk, in the northern part of the Donetsk Oblast.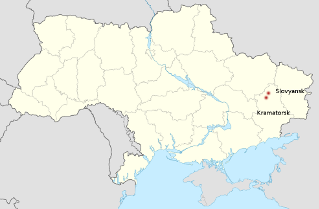 The two cities, just 10 miles apart, were hit at about the same time, with reports of several militia checkpoints on the outskirts of the two hit in the beginning, as the military tried to move in from multiple directions.
Medics confirmed one protester killed and nine wounded in Kramatorsk. Ukraine's interim president bragged that "many" were killed in Slovyansk, though so far the confirmed toll is only three there, including one militia member and two military pilots.
The pilots were killed when militia members shot down two military helicopters. About 20 helicopters were involved in the raid initially, though they withdraw after the shootdowns, one of which reportedly was hit by a missile. A third pilot was captured by protesters.
Neither city was actually captured today, and as of the end of the day the troops never actually got into Kramatorsk, and had basically withdrawn to the outskirts of Slovyansk as well. It is expected that more offensives will happen in the days to come.