Ukraine's "anti-terrorist" operation against eastern protesters hasn't even gotten into the major hotbeds of protest activity around Donetsk, but is already falling off the rails today when some 300 troops reportedly surrendered to protesters in Slovyansk.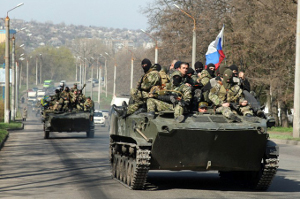 According to the protesters, soldiers refused orders to forcibly seize the city of Slovyansk, and rather laid down their arms. The protesters accepted the surrender and allowed the troops to leave, but kept their armored personnel carriers.
The Defense Ministry told an entirely different story, saying that Russian "sabotage groups" had somehow stolen the vehicles in neighboring Kramatorsk, also under attack, and transported them into Slovyansk.
However it happened, now not only does the rest of Ukraine's ramshackle military have to contend with growing numbers of protesters and their militia, but also has to face at least six of its own armored vehicles, which from video footage appear to be BMP-2 IFVs.