Protests began picking up in southeastern Ukraine only yesterday, and already today the demonstrators are declaring the creation of an independent Republic of Donetsk along the Russian border.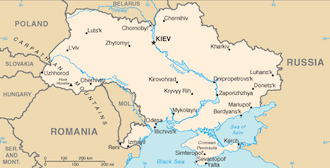 Since the pro-West takeover of Ukraine, this is the second attempted secession, after the Crimean Peninsula successfully broke off and gained accession into the Russian Federation last month.
Unlike Crimea, Donetsk doesn't have historically claims to independence, and the city itself has only existed since the late 19th century, when it was created by Welsh businessman John Hughes as a steel town.
Ukraine's government is continuing to portray the whole situation as a Russian plot, and fearing an invasion. The demonstrators have indeed courted such a move, saying Russian "peacekeepers" could help them follow the Crimean track.
Where the Republic of Donetsk goes from here is anyone's guess, but the protesters have said they intend to hold some sort of referendum courting Russian annexation, in the same manner as Crimea, by May 11. Russia has given no indication if it would welcome Donetsk the way it did Crimea.