The push to escalate the trade and sanctions war between Russia and the West continues tonight, with British Foreign Secretary William Hague insisting only new sanctions could force Russia to redeploy more of its troops away from the Ukraine border.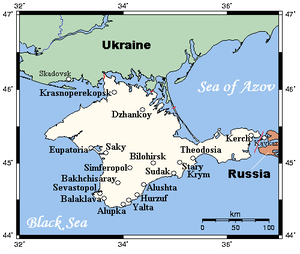 "We haven't seen real de-escalation by Russia and therefore Europe must not relax in preparing a third tier of sanctions," Hague insisted, adding that Europe needed to show a "strong and united response" against Russia.
Sanctions have had a lot of weird spill-over effects so far, including putting a Miley Cyrus concert in Finland in jeopardy, and today McDonald's announced it has closed its three Crimean restaurants.
McDonald's provided no specific reason for the closure, but said the workers at those three restaurants could keep their jobs only if they agreed to transfer to restaurants in Ukraine. They were not given an option to transfer to Russia, by all indications.
Crimean officials expressed surprise at the move, but said the three restaurants weren't a significant part of the peninsula's restaurant system, adding that they believe new restaurants will eventually come.
Last 5 posts by Jason Ditz