The price of natural gas in the Ukraine is going up by about 50 percent for retail customers as of May 1, and will likely continue to rise through 2018 as the nation slashes its subsidies under demands from the IMF.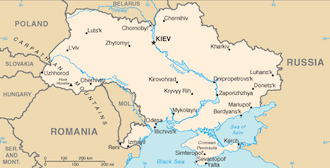 It is likely to be a hugely unpopular move by the state-owned Naftogaz company, but an inevitable one, as the ouster of the Yanukovych government has harmed Russo-Ukrainian relations and Russian company Gazprom is no longer being pressured to give them the friend's price.
In practice this means a rise from $268 per 1,000 cubic meters to $368, the same price Gazprom charges other European nations like Germany. Interim PM Arseniy Yatseniuk is playing up the idea that the EU might provide them with some more subsidized natural gas, but whether that materializes remains to be seen, as they don't have the surplus Russia does.
The price of natural gas in Europe is considerably higher than in North America, where both the US and Canada are paying south of $200. More expensive still is Asia, where prices continue to surge on short supply.
Ukraine has long struggled with its lack of domestic energy, and is hugely dependent on Russia's Gazprom, the world's largest producer by far. With Gazprom not having been paid in quite some time, the era of subsidies is over, and even if Europe ponies up a round of cheap gas to reward the new government in Ukraine, they won't be able to sustain it over the long term.