As-yet-unconfirmed reports out of Israel's Army Radio are claiming the Obama Administration is offering up jailed US spy Jonathan Pollard's release and transfer to Israel as a way to extend the stalled Israel-Palestinian peace talks.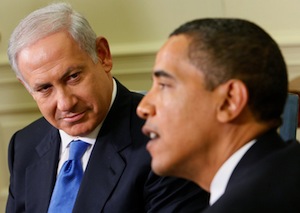 The report is that the US would offer Pollard, the Palestinians would agree to extend the talks, slated to end in April, until the end of December. Israel would simply be asked to not renege on the April prisoner releases.
The State Department didn't directly deny the reports, but insisted there are "no current plans" to release the US-born Pollard, who was made an Israeli citizen after his arrest for spying on Israel's behalf.
The Palestinians say they are not opposed to the release of Pollard, and reiterated that the talks would end immediately if Israel reneges on their promised prisoner releases, which most expect their far-right coalition to do.