Ukraine's Navy was already reeling after the loss of their flagship, the Hetman Sahaidachny, which in the middle of a NATO operation in the Gulf of Aden ditched the Ukraine flag in favor of a Russian one. Now, they've lost their naval chief as well.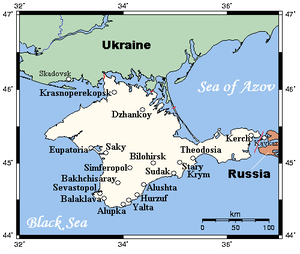 Rear Admiral Denys Berezovsky formally defected from Ukraine to Crimea, and the Crimean parliament announced the creation of a new autonomous Crimean Navy, with Berezovsky at the lead.
Berezovsky had been named Ukraine's naval commander-in-chief only yesterday, part of an effort by the interim Ukrainian government to sideline military leaders from the ousted Yanukovych government.
Ukrainian interim president Oleksandr Turchinov dismissed Berezovsky after his defection, accusing him of "treason." He also reportedly "reprimanded" acting Defense Minister Ihor Teniukh for the situation.
A defection from a country to an autonomous region within that country is extremely unusual, but reflects the growing secessionist sentiment within Crimea, which is planning on a referendum to split from Ukraine in late March.