In comments in Palestinian newspaper al-Quds today, Palestinian President Mahmoud Abbas termed Secretary of State John Kerry's framework plan "madness," detailing some terms which hadn't come out before.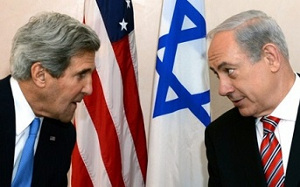 According to Abbas, Kerry demands he recognize Israel as a "Jewish state" and accept that Israel will keep virtually all of occupied East Jerusalem. He suggested the tiny neighborhood of Beit Hanina, in East Jerusalem, could be kept as a "capital" for the Palestinian state.
Kerry reportedly also demanded Abbas accept Israel keeping 10 distinct settlement blocs, more than had been previously discussed, and said it was possible Israel would keep the entire Jordan Valley as well, meaning "Palestine" would have no borders with any other nation.
Abbas threatened to walk out of the talks at that point, but was placated by a promise to get an unspecified future invite to the White House. He still opposes the framework, however.