Former Deputy Prime Minister Oleksandr Turchinov has been named Acting President and Acting Prime Minister by the parliament in the wake of the apparent ouster of elected President Viktor Yanukovych.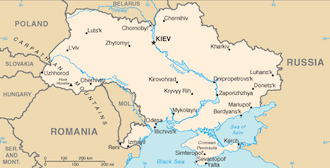 This is Turchinov's second stint as acting prime minister, having held the same post in 2010 after the dissolution of the Tymoshenko government. Turchinov is the deputy chairman of the "Fatherland" party and a long-time ally of Tymoshenko.
Turchinov also served for a time as the leader of the SBU, the top Ukraine spy agency. During that term he was accused of destroying files detailing Tymoshenko's business ties to crime boss Semyon Moglievich during the probe of Moglievich's role in the RusUkrEnergo scandal.
Yanukovych insists that he remains the president of Ukraine and that his ouster was not legal. He is somewhere in the eastern portion of the country, and says he has no intention of resigning.