Violence in Ukraine fired up again on Tuesday, with clashes between water cannon wielding police and protesters in the capital city of Kiev leaving at least 25 dead and hundreds wounded. The fighting stopped as suddenly as it started, with President Yanukovych announcing a "truce" with opposition leaders and plans for new talks.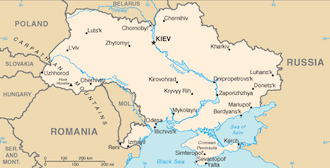 The threat of cooler heads prevailing and ruining the US chance to really start cracking down on Ukraine is palpable, and this time the Obama Administration didn't wait to start throwing sanctions at the country, imposing travel bans on a number of Ukraine government officials and threatening broader sanctions in the days to come.
The European Union is also talking up the idea of new sanctions, but will apparently hold off on a final decision until after meeting with Yanukovych and opposition figures. It is expected to include freezing the overseas assets of the Ukrainian government.
Ironically the whole dispute started with a debate over whether to form closer trade ties to the EU or remain close with Russia, and the sanctions may well be an argument for years to come that overseas investment into the EU is only liable to be seized whenever the EU gets a chance anyhow, and that Russia is a safer place for Ukrainians to do business.