Meeting with French President Francois Hollande today, President Obama vowed to cement the "forever friendship" between France and the United States. Then came the threats.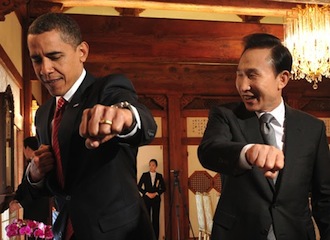 The threats to France centered around similar ones from Secretary of State John Kerry recently, that French businessmen have recently been making contacts in Iran in anticipation of the easing of sanctions.
Though easing sanctions were part of the P5+1 interim deal with Iran, and even more could be expected with a final Iran deal, US officials have been keen to downplay any improvement in ties with Iran, and have been warning companies against trying to make deals with Iranian companies.
President Hollande insisted that the companies are free to make contacts and hadn't actually violated any sanctions, but President Obama's pointed threats made it clear he disputes that.
Obama said any companies or nations having contact with Iran did so "at their own peril" and vowed to "come down like a ton of bricks" on them for doing so.