German newspaper Suddeutsche Zeitung today revealed that the NSA surveillance of German leaders didn't begin with current Chancellor Angela Merkel, and that Gerhard Schröder was targeted beginning in 2002 for his opposition to the Iraq War.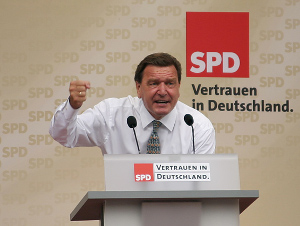 Schröder came out openly against the planned US invasion of Iraq, and officials at the time reportedly feared a split within NATO and ordered him placed under NATO SIGINT "special collection" targeting. Unnamed US officials defended the targeting, saying they "had resume to presume he was not contributing to the success of the alliance."
The former chancellor said that at the time "I would never have entertained the idea that the US secret services would be listening in on me," but that amid all of the NSA scandals now it "comes as no surprise."
Green Party MP Hans-Christian Ströbele said he could confirm the report, and had seen essentially the same information from other sources, saying it was part of a US effort to predict any German actions that might prevent a UN resolution authorizing a war with Iraq.