Egypt's ousted President Mohamed Morsi was all-but-disappeared by the military during their July coup d'etat, but appeared in court this week to face a litany of charges. He may or may not be aware of the details, however, as he was in a sound-proof cage for the duration of the hearing.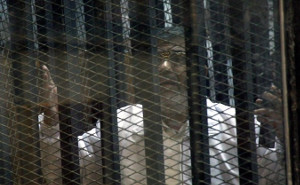 Morsi's charges include "escaping from prison" during his brief, illegal detention in the middle of the 2011 Egyptian Revolution, and "collaborating" with Hamas. Analysts say the charges of involvement with Hamas are mostly implausible, since the people he is accused of meeting were either dead or in Israeli prisons at the time.
Morsi's lawyers were harshly critical of the use of the sound-proof cage, saying it denied the president the right to hear and participate in his own trial. The junta ultimately ruled that it "preserved order" to keep Morsi nominally present but unheard and unhearing during the trial.
The hearing ended with the judge adjourning the trial until late February, and is only the second time Morsi has even been seen since the July 3 coup. Though the junta did not allow private media into the trial to cover it, the president appeared to be in more-or-less good health from the shots shown by the state media.