Though Islamabad is nominally Pakistan's capital city, the neighboring city of Rawalpindi is in many ways the true seat of power, housing the military's General Headquarters in a nation with a long history of military rule.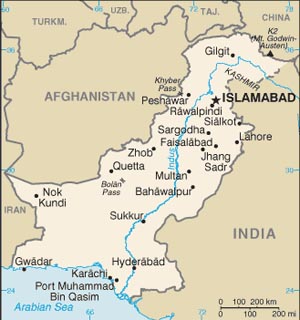 That's made Rawalpindi, and especially its "garrison area," a position of incredibly heightened security where attacks are extremely rare and difficult to pull off.
That didn't stop a 14-year-old suicide bomber from attacking a group of soldiers outside the Army Officers Mess in the center of the city today, killing at least 14 people and wounding 29 others.
The attacker was disguised as a paper scavenger, one of the people who makes a living collecting paper for recycling. At least seven of the slain were Army personnel, while some students passing by on their way to a nearby college were also caught up in the blast.
The Tehreek-e Taliban Pakistan (TTP) too credit for the strike, saying it was retaliation for recent military operations in the area around Bannu. The Pakistani government is expected to unveil a new "national security policy" with respect to the TTP and a peace process which has been essentially dead since a US drone strike killed the TTP's previous leader, Hakimullah Mehsud, just hours before talks were scheduled.