The West Bank as the Palestinians see it keeps getting smaller and smaller.
The latest out of the peace talks between Israel and the Palestinian Authority is that Prime Minister Benjamin Netanyahu has added an entire new bloc of settlements to the list of territories he intends to keep in any peace deal.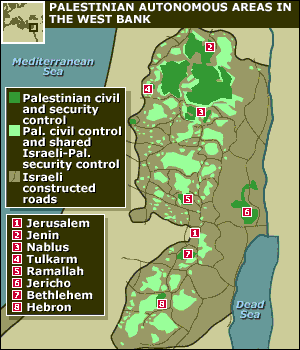 The newest bloc is on the outskirts of Ramallah, the major Palestinian city that is the de facto capital of the Palestinian Authority. Netanyahu reportedly also told the Palestinians that he will not be offering 1:1 land swaps for the settlement and the surrounding area.
Netanyahu reportedly insists that the biblical book of Genesis is his justification for keeping the settlement bloc around Beit El, which makes it even less clear why he is all of a sudden issuing new demands.
With the new settlement blocs added, Israel now intends to annex a minimum of 13% of the West Bank, and is only considering giving the Palestinians a fraction of that amount in Israeli territory in exchange. The Palestinians have reportedly rejected the demand, but that doesn't seem to have changed the Israeli perspective that Beit El is now "part of the deal."