Protests continue in the Ukrainian capital city of Kiev, with the occasional clash with riot police leaving a handful of protesters injured. Though the incidents are well short of the crackdowns on dissent in US-allied nations like Bahrain, the Obama Administration is threatening to impose sanctions.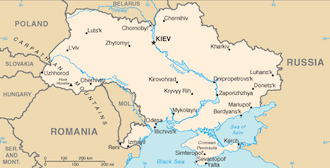 That was the message from the State Department today, while Senators continue to debate the possibility of visa bans for top Ukrainian officials. Administration officials have also said they won't rule out such bans.
Protesters who seek closer ties with the European Union have been protesting for months against the government, which is close to Russia and has been keeping its distance from the EU.
Nominally the government has banned protests in central Kiev after some initial violence, but in practice the protesters never left, and officials say there are no plans to force them to do so. The State Department's comments may simply be designed to warn off any incidents, but with the US cheerfully backing the Egyptian junta and the Bahraini government in brutal crackdowns on protests, the double-standard is particularly stark, and particularly embarrassing.