Hopes for a major shift toward a peace deal with the Palestinians have long been hindered by Israel's right-far-right coalition government having so many members opposed to the idea of peace in general. Secretary of State John Kerry's latest visit and proposed compromise looks to be bringing that to a head.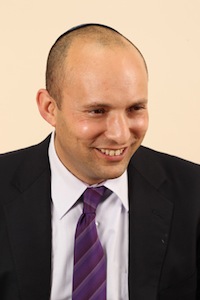 Economics Minister Naftali Bennett, who has repeatedly ruled out Palestinian statehood, is said to be privately drawing "red lines," one of which is that if the Netanyahu government endorses Kerry's plan, his party will withdraw from the coalition and collapse it.
Nominally, Bennett's big problem with the Kerry proposal is the eventual return of the Jordan Valley to the Palestinians, and members of his Jewish Home party are planning high profile tours of the minor settlements Israel has sprinkled through the valley in past years. In the past, however, Bennett has made it clear he opposes to any Palestinian state, ever.
Incredible though it seems, Foreign Minister Avigdor Lieberman is positioning himself as the voice of reason, urging Israeli MPs to hear Kerry out, and calling the proposal the "most genuine" US effort to solve the long-standing issue in over a decade.
Bennett's position as the leader of the anti-peace bloc looks secure, however, and a number of backbenchers from the Likud Party are said to be on his side, promising to block any efforts by Netanyahu to bring Labor into the coalition, which would allow them to ditch Jewish Home outright and go for peace with a right-center coalition.