Though the comments were nominally presented as his own "commitment" to stop Iran's civilian nuclear program, French President Francois Hollande's specific assurances were actually made on behalf of the US Senate, and not France at all.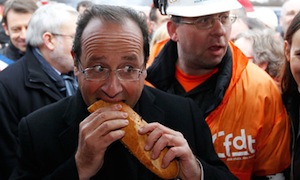 During his media "meet and greet," Hollande insisted that the US Senate was determined to move against Iran with more sanctions and would "squash" the Iranian economy to punish them for "evading" negotiations with the P5+1.
The P5+1 talks have been stalled for a few days after the US imposed new sanctions, something Russia and Iran both warned was in violation of the spirit of the interim agreement. Iran's negotiator says the talks will resume in a matter of days.
Hollande's comments suggest he retains a substantial chip on his shoulder about the whole process, having attempted to kill the interim deal in early November. For now he seems content to wait on US Congressional hawks to try to derail the talks, but this also suggests France will remain an obstacle to any final pact.