Amid growing signs of a split coalition forcing an early election, Israeli Prime Minister Benjamin Netanyahu is pushing a resolution to maintain a joint list with Yisrael Beiteinu for the next election. Rivals within his Likud Party are pushing a different resolution to split with them immediately, however, and officials say it is likely to pass.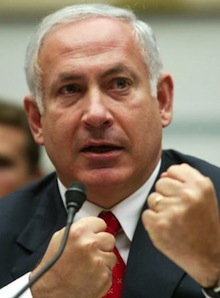 The two parties formed a joint list ahead of the last election, expecting their combined voting bases to sweep them to a virtual majority together without the need for partners. It didn't work that way, however, and recent polls have suggested that they would get more seats as two lists than they do as one.
Yisrael Beiteinu leader and Foreign Minister Avidgor Lieberman opposes the split, and is said to believe himself to be Netanyahu's heir apparent as leader of the joint list, making him a future prime minister. Netanyahu likewise sees his own control over the joint list as ensuring his continued rule.
Others in Likud aren't so sure, seeing the joint list as giving too many plum positions to Yisrael Beiteinu MPs, and seeing their partners as liable to ditch them at any time if a better deal comes along. Top Likudniks are also considering a resolution in the future to keep Netanyahu from retaining party leadership for another term, and that means they'd like to be in the running to replace him.