Israeli Finance Minister Yair Lapid warns that the lack of progress in the Palestinian peace talks is threatening the stability of Israel's government, and could collapse the coalition outright.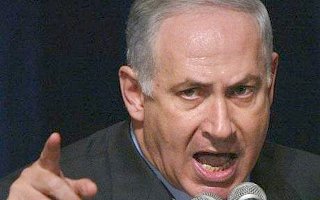 Lapid, the leader of the Yesh Atid party, warned that Israel needs to be willing to make concessions for a peace deal, and that the alternative, integrating 3.5 million Palestinians under occupation, was not an option.
Lapid's comments stood in stark contrast to those of literally every other major coalition minister. Foreign Minister Avigdor Lieberman termed the talks at a "dead end," while Defense Minister Moshe Ya'alon declared "no partner" for Israel to make peace with.
Even Lapid's former coalition ally, Neftali Bennett, termed the current peace talks a "joke," saying peace with the West Bank Palestinian Authority was meaningless without Hamas. Bennett has repeatedly argued that God opposes Palestinian statehood, and wants Israel to annex the occupied territories outright.
This division on peace talks was something everyone saw coming when the coalition formed, but Palestinian peace was considered such a low priority that most doubted the issue would ever really come up. Now that it has, Yesh Atid's 19 seats allow it to collapse the government at any time, forcing Netanyahu to try to cobble together a new, anti-peace coalition or accept new elections.