With the Pakistani national government in charge of highways, and NATO supplies taking highways through the Khyber-Pakhtunkhwah (KP) Province into neighboring Afghanistan, the legal options for the KP government to enforce a blockade were virtually nil.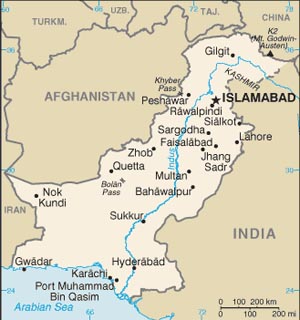 Still, the KP government's ruling party, Pakistani Tehreek-e Insaf (PTI) began the blockade in earnest over the weekend, with party officials and supporters setting up checkpoints across the highways in Peshawar, forcing NATO trucks to stop and reportedly "roughing up drivers" with clubs.
Few trucks head to Afghanistan over the weekend, so the real test will be on Monday, but the PTI says they will reassemble, and while provincial police note the ad-hoc blockades are technically illegal, since they can only act against them on the orders of the PTI-run provincial government, there's nothing they can do.
Information Minister Pervez Rashid slammed the protests, accusing the PTI of trying to ruin Pakistan's relationship with the US and other NATO members. PTI leader Imran Khan has accused the national government, which is nominally opposed to the drone strikes, of looking the other way, and insists it is only acting against NATO supplies because Prime Minister Nawaz Sharif has proven unable, or unwilling, to do anything about the drones.