In comments in Abu Dhabi today, Secretary of State John Kerry tried to downplay the significance of the failure to reach a deal with Iran over the weekend, insisting the talks were "not a race" and that he remains confident a deal will eventually be reached.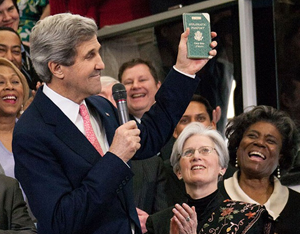 Kerry went on to term diplomacy an "obligation," and said that a deal could take several months, though he still gave lip service to the idea of attacking Iran as well.
With the comments coming in a GCC nation, Kerry also sought to reassure Saudi Arabia of continued US support, insisting that the US would continue to back them no matter what happens with the talks.
Saudi Arabia has made it clear they oppose any deal with Iran, and it was reportedly their offer of a lucrative arms deal to France that ultimately kept the deal from being signed over the weekend.