NSA Chief Gen. Keith Alexander gave a long interview today with the Pentagon's "Armed With Science" blog, calling on the world to find some way to stop international media outlets from reporting about his agency's surveillance programs based on leaked documents.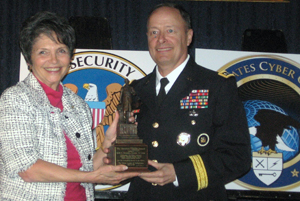 "We ought to come up with a way of stopping it. I don't know how to do that," Alexander insisted, saying that the ability of media outlets to report on the NSA "just doesn't make sense" to him.
The focus of Alexander's comments to the military blog was insisting that all media reports on the NSA were a "dramatic, convenient lie," followed by an admonition for troops not to "give into the hype" and to trust the NSA unconditionally.
Alexander's comments during the NSA scandal have mostly been blanket denials, and even after some of those denials have been proven flat out untrue he has stuck to that story. He seems to still be holding out hope that after months of confirmed reports based on official documents, everyone will somehow be convinced to forget about everything and just trust him.