US Director of National Intelligence James Clapper expressed annoyance at recent French media reports about NSA surveillance against their country, saying that the media reports were "misleading."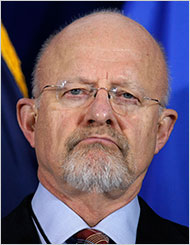 Clapper refused to say how the report was misleading, but as a man who has openly bragged about lying under oath to Congressional committees, he knows a thing or two about misleading people.
Clapper went on to reiterate Obama Administration claims that the NSA "gathers intelligence of the type gathered by all nations." Le Monde revealed that the NSA recorded over 70 million French phone calls in a single 30 day period.
The report was the latest in a long line of media reports based on leaks documents from Edward Snowden, and while the Obama Administration has regularly started off with claims that such documents weren't telling the whole story, every additional leak has not only underscored the previous leaks' accuracy, but revealed even worse privacy violations.
Last 5 posts by Jason Ditz