Elaborating on Tuesday's UN General Assembly speech in opposition to nuclear weapons, Iranian President Hassan Rouhani called on all nations to relinquish such weapons, and urged Israel in particular to sign the nuclear Non-Proliferation Treaty (NPT).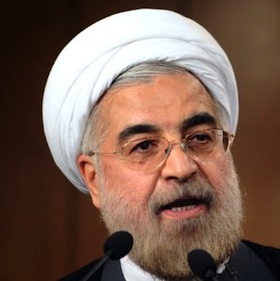 Israel is the only nation within the Middle East with a nuclear arsenal, and also the only nation in the region that hasn't ratified the NPT. Rouhani endorsed the idea of a nuclear free Middle East, saying that it was time to follow through on decades of talking to that effect and ideally expand it worldwide.
Israeli officials have repeatedly ruled out ever signing the NPT, and the Obama Administration has backed their stance, saying that Israel has a "right" to nuclear weapons.
Rouhani's comments today came in the context of a speech as current head of the Non-Aligned Movement (NAM), and the body has repeatedly backed the right to civilian nuclear technology for all nations, including Iran.