Most of the focus on Egypt for the past week has centered on the military junta's massacre of protesters in the capital city of Cairo and other major cities. Yet before this happened, a violent crackdown was already underway in the Sinai Peninsula.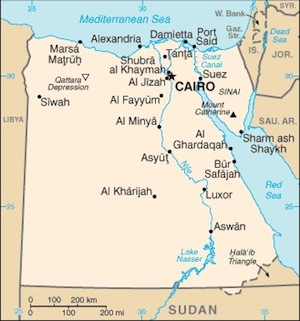 That crackdown, which began the same day the coup was launched in early July, is starting to see some major backlash, as a militant faction ambushed a pair of minibuses carrying Egyptian national police today, killing at least 25 of them and wounding two others.
So far no group has claimed credit for the attack, but the Sinai Peninsula is home to multiple militant factions who have an axe to grind, particularly since the junta's escalation against them, which included an Israeli drone strike endorsed by the military.
Egypt's military has tried to portray the Sinai militants as a combination of Morsi supporters and Hamas, but the reality is that the peninsula's militants include a lot of factions that aren't particularly friendly with either, and it is yet another problem the junta has to contend with as it tries to cement its rule through sheer force of arms.