Egypt's official toll for Wednesday's massacres, per the nation's Health Ministry, was 642 dead and thousands wounded. Over 173 more were killed today, bringing the three day toll to over 800 by official reckoning.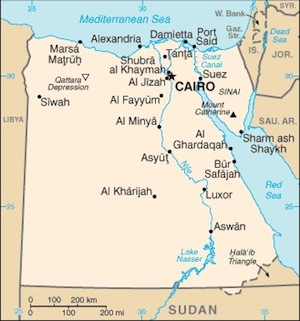 That reckoning is almost certainly well below the actual toll, with hundreds of slain not included in the official count and a large number of wounded also ignored for seeking treatment outside of the Health Ministry's official facilities.
Exactly where the death toll actually lies is something we may never know, though the Muslim Brotherhood, the organizers of the protests, suggesting 4,500 may have been killed.
Today's protests were met by the same heavy-handed violence as the protest sit-ins on Wednesday, with Friday's marches beginning after morning prayers. Tens of thousands turned out in Cairo alone for protest marches, though having the people marching through the streets instead of in a makeshift camp surrounded by heavily armed troops likely kept the death toll much lower today, allowing protesters to more easily escape the attacks.
Though international condemnation continues to grow, Egypt's junta defended the killings again today, reiterating that the protesters are "terrorists" and that the police were authorized to respond with "deadly force" to protect their rule.