The White House is loudly promising that President Obama's promised "independent group of outside experts" meant to review the privacy issues surrounding the NSA surveillance programs will not, despite previous reports to the contrary, be run by the Director of National Intelligence (DNI) James Clapper.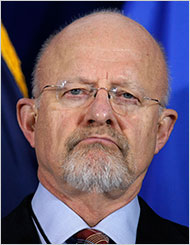 Speculation about Clapper's involvement rose yesterday after a press release in which Clapper announced that he was personally establishing the group and intended to call it the "Director of National Intelligence Review Group on Intelligence and Communications Technologies."
Which sparked immediate backlash, because Clapper admitted to lying under oath to the US Senate about the NSA programs, and has been facing a growing call for his resignation ever since.
The White House now says Clapper's involvement will be extremely limited, and that President Obama will personally choose all of the participants. Clapper will simply be in charge of handing out security clearances and providing classified information to the panel.
It is unclear whether the White House comments are the intended plan, or if they simply backtracked, because President Obama had also previously implied that Clapper would be in charge of "establishing" the group as well.