Fresh off of the Friday Israeli drone strike the Egyptian military junta looks to escalate their own offensive in Sinai even more, attacking the town of Sheik Zuweyid overnight, killing 12 suspects and wounding at least 12 others.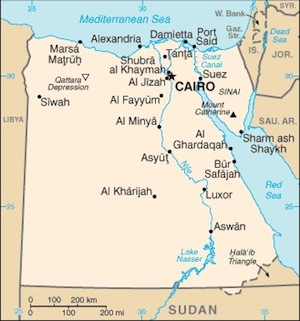 Details of the victims have not been made public yet, though officials said the attack targeted people suspected of involvement in a 2012 attack on Egyptian troops. Locals reported that mobile phone service was cut immediately before the junta raid.
Egypt's junta began an offensive against Sinai at the same time as the coup in which they seized power, and actually began deploying additional forces into the peninsula days prior to the coup in anticipation of a crackdown. They had reported last week that 60 people were killed in the offensive against Sinai since it began.
The Israeli drone strike reportedly targeted members of Ansar Bayt al-Maqdis. Egypt initially confirmed the attack was done in coordination with them, then denied it, then denied that anything had happened at all.
Israel hasn't commented directly on the strikes, but Defense Minister Moshe Ya'alon said that Israel respects the "sovereignty" of Egypt's new government, and that the reported strike wouldn't harm Egypt-Israeli ties.