Following through on a promise to give advanced notice of a verdict, Col. Denise Lind is set to issue a final verdict in the case against Pfc. Bradley Manning on Tuesday at around 1:00 PM.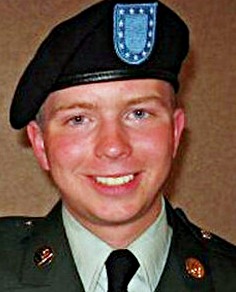 Manning is facing 21 charges related to leaking information about war crimes in Iraq and Afghanistan, and could face life in prison for the single charge of "aiding the enemy."
Judge Lind has been overwhelmingly compliant with the prosecution, even allowing them to change the charges late last week, after all the testimony had already been given, to better fit the case that had been made. She has also spurned defense complaints about inappropriate actions by the prosecution and allegations of bias.
That's bad news for Manning, who has admitted to the lesser charges of releasing the information but insists it was because of a belief that the American public ought to know. The prosecution, by contrast, has insisted Manning is a monster who anonymously leaked the data as part of an ill-conceived plot to get "famous" by aiding al-Qaeda.
The sentencing phase of the trial is tentatively scheduled to begin Wednesday, and it could last several additional weeks.