On the eve of the first preliminary peace talks in the US, Israel's cabinet has approved a Basic Law requiring that any peace deal that involves withdrawing from any Israeli territory would include a referendum.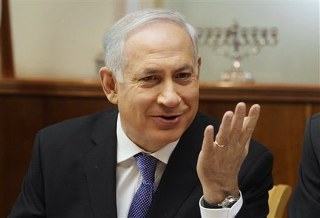 Israel has never used referendums before, and Prime Minister Benjamin Netanyahu is pushing the plan primarily as a way to placate Jewish Home, a coalition partner opposed to any peace treaty on general principle.
Technically speaking, the law wouldn't require a referendum for Israel to withdraw from occupied territory, including the West Bank. This is because Israel has long argued that their own law doesn't apply to the occupied territories.
Netanyahu has insisted that any peace deal he reaches with the Palestinians would have him throwing in a "couple of square meters" of Jerusalem just so the overall deal can be forced into the referendum.