With reports that the preliminary talks between Israel and the Palestinian Authority could begin next week, Prime Minister Benjamin Netanyahu is rushing through a quick reading and vote on a bill requiring a national referendum on any peace deal.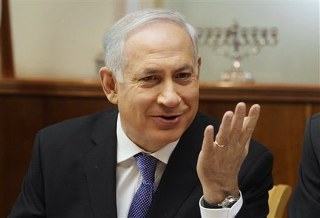 The referendum requirement is being championed by opponents of a peace deal, under the assumption that relative ambivalence among most Israeli voters will allow settlers, who nearly universally oppose such a deal, to dominate the vote and kill any deal.
Yet in the end the referendum law isn't nearly as strong as officials had hoped, as Netanyahu has learned that it is literally impossible to make a law banning a withdrawal from occupied territory. This is because Israel, to facilitate the occupations, has long maintained that Israeli law doesn't apply in such territory.
As a result, Netanyahu says he plans to demand that any peace deal include a "couple of square meters" of territory in Jerusalem just so that the overall deal can be put into the referendum system and defeated.
The scheme has been roundly condemned by opposition parties, and by more moderate parts of Netanyahu's own coalition. Justice Minister Tzipi Livni is said to be particularly opposed, pointing out that Israel has never required a referendum to make war and shouldn't require one to make peace.
Last 5 posts by Jason Ditz